Digital Darkroom
The software employed in a digital darkroom varies greatly depending on the photographer's needs, budget and skill. The following are general areas and examples of software.
Image Acquisition: entails downloading images from a camera or removable storage device or importing from a scanner. Windows XP and Windows Vista both include an inbuilt wizard for importing images, including scanning images. Many professionals however may choose an importation tool built into image management software such as Adobe Photoshop Lightroom, Apple Aperture, ACDSee or Capture One.
Image Library Management: involves managing images in a photographer's library and may extend to backing up images. Software such as Adobe Photoshop Lightroom, Apple Aperture and Media Pro 1 are examples of major image management software.
RAW Software: software, either stand alone or as part of image library management software that is designed to import and process RAW images. Most digital cameras capable of outputting RAW images will include a program or plug-in for this purpose such as Canon RAW Image Converter. Programs such as Adobe Photoshop Lightroom, Apple Aperture and Capture One include extensive support for RAW importation and processing.
Image Editing: There are countless image editing suites, programs and tools available. Adobe Photoshop is among the most highly used in professional circles as are programs from Apple Inc., Microsoft, Macromedia (now Adobe), ACD, Phase One and various open source projects. Consumers may use professional software or choose less expensive options such as Adobe Photoshop Elements, Capture One Express or free open source options such as The GIMP.
Camera Control Software: software that can remotely control a camera from a computer connected via USB (tethered shooting). Normally included as utilities with camera, these allow photographers to control the camera from a nearby computer. Cameras such as the Canon 40D include such software and a live view mode so that a user may use a computer to control numerous functions of the camera while seeing a virtual viewfinder onscreen.
Capture One is one of the pioneer software programs used for tethered shooting which is very useful especially for studio photographers.
Capture Pilot [ 2 ] is a photography app with camera control. The photographer is able to use a virtual camera display on an iPhone or iPad to remotely fire the camera and control capture parameters such as ISO sensitivity, exposure mode, shutter speed, aperture, exposure compensation. Capture Pilot requires Capture One to function.
Hardware
As image size and resolution increases, so do the requirements for hardware in a digital darkroom.
Computer: A computer in a digital darkroom typically have a generous amount of RAM, often 4GB or more, coupled with discrete graphics and a powerful multicore processor. For much of the 1980s and 90s, Macintosh based systems were dominant in the digital imaging market as Adobe's powerful new Photoshop software had only then been developed for the Mac. However, Windows-based systems such as Dell's high-end Precision range have become increasingly popular in recent times; better value for money than Apple's high-end Mac Pro and a more familiar Operating System are both factors that affect the choice of many prospective buyers of photo-editing systems.
Cameras/Scanners: Digital cameras and image scanners are increasing in quality, including the amount of colour they can capture and output. Many newer digital cameras can support wider colour spaces such as Adobe RGB and have higher resolution analog-to-digital converters; 14 bits rather than the common 12 bits.
Displays: Professionals may use premium displays from companies such as EIZO and Dell which are capable of displaying a wider range of colours than consumer oriented devices.
Printers: In addition to computers and displays, digital darkrooms may include printing equipment, ranging from smaller size printers for proofing to large format productions printers. Scanner and studio photographic equipment may also be included.
Digimage Arts program
Digital Darkroom is also the trademarked name of an image editing program for the Macintosh published by Digimage Arts. [ 3 ]
Top Digital Darkroom Software for Digital Photographers
Software designed for advanced amateur and professional photographers
Digital darkroom software is designed for simulating darkroom techniques with digital photos. This software offers sophisticated tools for advanced amateur, fine-art, and professional photographers. It generally does not have painting, drawing, and pixel-level editing tools that a general-purpose photo editor would have, and it may or may not offer features for organizing and publishing your photos. Some are plug-ins to other software such as Photoshop, and most include Raw camera file support.
Adobe Photoshop Lightroom >
Excellent organization features.
Exposure, color, and sharpness controls.
Expensive compared to competitors.
Doesn't replace Photoshop's manipulation strengths.
Slow to render complex images.
Through a series of modules, Lightroom Classic CC helps photographers manage, develop, and present their photos. It's obvious that Adobe has gone to great lengths to meet the digital darkroom needs of photographers with Lightroom. Lightroom is best suited for serious amateurs and professional photographers who work with large numbers of images and who often work with Raw camera files.
Adobe offers two versions of Lightroom: Lightroom CC for consistent features across mobile and desktop platforms and Lightroom Classic CC with robust desktop-editing features.
DxO PhotoLab (Windows and Macintosh)
Sophisticated processing and correction tools.
Top-notch noise reduction.
Strong selection of presets.
Not much emphasis on workflow tools.
No history panel or image rotation button.
Can't rename an image during export.
DxO PhotoLab (formerly DxO Optics Pro) automatically corrects Raw and JPEG images based on detailed analysis of hundreds of camera sensor and lens combinations. DxO PhotoLab intelligently corrects distortion, vignetting, lens softness, chromatic aberration, keystoning, noise removal, dust removal, white balance, exposure, contrast, and more. DxO PhotoLab produces impressive results batch processing multiple images automatically, but also allows for manual adjustments for creative control. DxO PhotoLab can work along-side Adobe Lightroom and a detailed document is available on how to use the two programs together. DxO PhotoLab is not terribly complicated, but the well-written user guide will help you get the most out of it.
DxO PhotoLab is available in Essential and Elite editions, with the Elite edition offering support for high-end cameras in addition to all the equipment combinations included in the Essential edition. DxO's web site offers an online tool to guide you to the version you need and the free 30-day trial can be downloaded.
Getting started with the Darktable photography workflow application
Subscribe now
Get the highlights in your inbox every week.
Last month, Jason Baker wrote a great article on photo managers. As it happens in open source, the collaboration that followed his article (in this case, in the form of comments by lots and lots of opensource.com readers) generated a whole new list of great open source photo tools. One that kept popping up was Darktable, which I use on a semi-regular basis, so I thought I'd write up a quick intro to this fine open source, cross-platform application.
Darktable is designed to be a photography workflow application, meaning that if you want it to act as the center of your photo studio, it can be exactly that; you can tether your camera to it, bypass the need for an SD card tool, shoot straight into Darktable, and then review your photos, do filter-based non-destructive edits, and publish. It's as complete a solution as you need.
I don't have the access to studio space the way I did at my previous job, so my use for Darktable now is solely as a digital darkroom.
Darktable basics
If you don't have Darktable installed, you can either grab it for Linux or MacOS from github.com/darktable-org/darktable/releases or, if you're on Linux, then you can probably find the latest version in your distribution's software repository.
When you first launch Darktable, the program may seem a little daunting. Its interface is unique, but once you get the hang of it, Darktable is actually pretty simple. There are a few different modes that Darktable can run in. Most are named aptly:
Lighttable: an array of images, as if you were looking at your film negatives on a, well, lighttable
Darkroom: the photo editing interface with non-destructive filters you can use to enhance a photo the same way you would in a darkroom (or, to be fair, at some later stage)
Tethering: for studio use, permitting you to shoot straight to disk
Map: a world map showing geo-location for the current image or images
Slideshow: a presentation mode, much like a slideshow
Each of these modes is accessible from the labels in the upper right corner of the Darktable window, but you'll start in the Lighttable mode.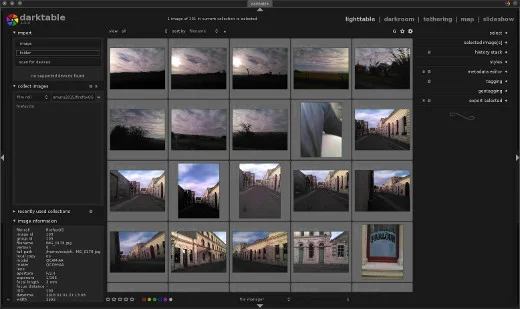 Initially, you'll not have any photographs loaded, so the first step is to import images, either on a per-file basis or by directory. To import, click one of the buttons in the import panel, located in the upper left corner of the Darktable window.
You can import RAW images, or compressed images. When you import images, a virtual "film roll" is created and each photo is tagged as being a member of that roll. This is useful if you want to view only the photos taken during one specific shoot, or over your family holiday, and so on. Two things to keep in mind about this:
The film roll designation is only a tag. Photos are not moved from where they live on disk when you import them into Darktable, so it's safe to use tags to organize them within Darktable.
You can tag a photo or group of photos with pretty much whatever you want. The film roll convention is a logical, film-like analogy that Darktable uses, but you can tag photos with any word or phrase that you find useful, and then filter your view of photos by tags.
Once you have imported a few photos, you'll see them on a lighttable-style layout. The lighttable itself can operate in two ways: it can just be an array of photos (file manager mode), or it can be a dynamic photo viewer with mouse-wheel zooming and middle-mouse click navigation (think Blender-style efficiency). To switch between modes, use the file manager pop-up menu at the bottom of the lighttable panel.
The lighttable is truly just a photo viewer; there's not much to it, aside from looking at all of your many choices, and possibly rating them (1 to 5 stars) based on how you (or your client) feels about them.
Most of your work will be done in the darkroom panel, so select a photo and click the darkroom label in the top right corner of the Darktable window.
Digital darkroom
In the darkroom view, there are three main areas of interest:
The left and right panels hold filter and property palettes. These are what you'll use to apply effects to your photograph.
The center screen displays your image.
The bottom thumbnail bar provides quick access to your lighttable.
If you feel you need more room to work, you can hide panels and switch to full-screen, and if you find yourself doing any action repetitively, you can even assign keyboard shortcuts for quick access.
Your workflow will probably start with the panel on the right. Any filter placed on a photograph appears in the right filter stack. Available filters are available in the bottom right panel, labeled more modules.
Try adding a filter, or enable one of the default filters by making a change to some value. I usually start with the levels filter to enhance the shadows and highlights of my image. This filter is tagged as a member of the tone group, so you can find it quickly by clicking the tone group button at the top of the filter panel on the right. The group buttons each show filters that belong to their group; to see what the various classifications of filters are, roll your mouse over the buttons and read the tooltip.

In the levels palette, adjust the black, gray, and white levels of your photo. You should see the results immediately. Of course, these are all non-destructive edits, so you can change your settings at any time. You can toggle a filter on and off using the on/off icon on the left of the filter title. This is the quickest and easiest way to see a before-and-after version of what you are doing with any individual effect.
All the effects you would reasonably expect to need as a professional photography are available, and each can be added as filters to your stack. If a filter is in the stack, activate or deactivate them with the on/off icon.
Let's step through a few simple modifications on a sample photograph to demonstrate one way of working. I've already applied a level filter, so next I'll use the colour correction filter. This filter is tagged as a member of the colour group, so click on that button in the top right quadrant of the Darktable window to reveal the colour correction filter.
Changing the color balance causes the filter to become active. You can shift the white balance as well as the overall saturation.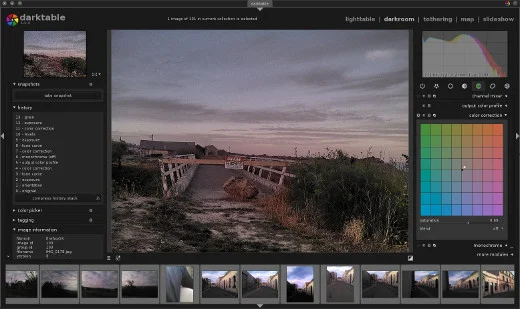 There are "special effect"-style filters, too, such as bloom, vignetting, and grain. These are found in the right-most group, the effect group.
Filters can have presets. Darktable ships with some presets already defined, but you can add your own, too. To access presets, use the menu icon to the left of a filter's name. For instance, if I decide that I want my photo to be black-and-white, I can either click the menu icon next to the color zones filter (one of the many filters that can produce a grayscale effect) and choose black & white film, or just right-click the color zones filter title and choose from the presets that appear.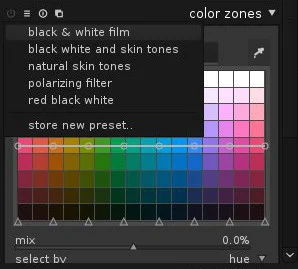 Any setting you create in a filter can be saved as a preset for later use by selecting store new preset. from the preset menu.
Version flipping
Inevitably, you're going to reach a point in your work when you have a version of the photograph that you like, but you want to keep playing with filters to see if you can make it even better. The good news is that you can have your cake and eat it, too. There are two ways to do this: one temporary, and one persistent.
Snapshotting
Taking a snapshot of a work in progress is a great way to preserve one particular set of filters while you continue to work. A snapshot does not make a literal copy of the photo; instead, preserves the set of active filters that you, at the moment of the snapshot, have applied to the base photo.
Snapshots are meant to be temporary.
To take a snapshot of your work, click the take snapshot button in the top left corner of the Darktable window.
Once you've taken a snapshot, it's listed in the snapshots panel. As you continue to work, you can always compare snapshots to your photo's current state by clicking on a snapshot. This displays a split-screen view of the snapshot and your photo.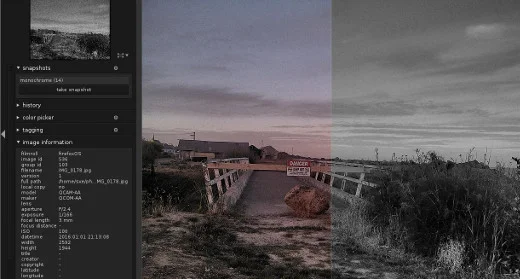 Duplicating
A more permanent solution to have one photograph serve as the base image for several final versions is to duplicate a photo. Like a snapshot, a "duplicate" photo in Darktable is not a literal copy of the base image; Darktable just saves the filters you've applied to a photo and shows you another representation of the base image with those filters applied to it, as though it had made a copy. This results in you having two versions of the same "physical" computer file in Darktable (but not on your hard drive).
To make a duplicate of a photo, go back to the lighttable view and select the photo you want to duplicate. From the selected images panel on the right, click the duplicate button. ![dt_duplicate.jpg] You can now select one of the two images and continue editing in the darkroom.
Exporting
Eventually, you or your client will decide which photos to publish, and you'll want to export your work from Darktable. Exporting a single image or a selection of images is done from the lighttable view.
First, select the image or images you want to to export.
Reveal the export selected panel on the right and set the destination of where you want to save the files. Select the format and quality, and then click the export button. In my examples, I'm using relatively small JPEG files, so exports are quick, but if you're editing RAW, you might be able to sneak in a quick coffee break.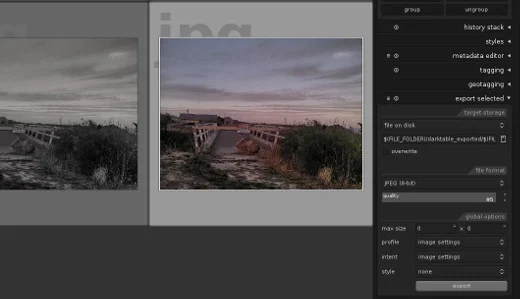 Customization
Darktable has a very respectable, albeit somewhat hidden, preference panel. To access it, go to thelighttableview and click the gear icon hiding up in the right corner of the lighttable panel.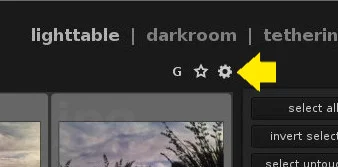 Most of the Darktable defaults are reasonable, but if you're accustomed to keyboard conventions or averse to something Darktable implements (such as using the backspace key, generally used to delete, as the back button in the lighttable view), you can change almost everything about the keyboard layout.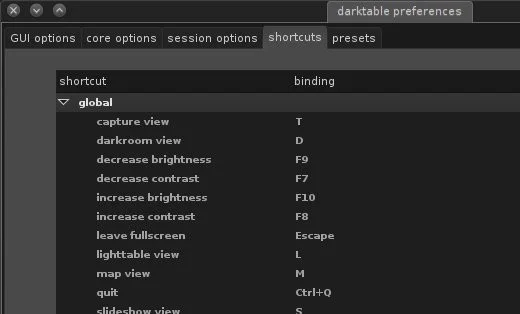 Darktable
Darktable probably leans heavily toward the "pro photo" end of the spectrum compared to something like, say, Shotwell or Picasa, but if you're looking for a step up from those, or you're looking to improve your photo workflow, then it may be a great move for you. If you are a professional photographer, then Darktable is quite possibly everything you need from a digital darkroom app.
Try it out! Next month, we'll take a look at digiKam, and then LightZone.
Welcome to The Digital Darkroom
The Digital Darkroom is a professional photographic and digital imaging studio. We are a low volume, high quality print studio offering a range of digital print and photographic services, specialising in prints on photographic and fine-art papers. Our mission is to do simple printing well. We don't print on glass, plastic, acrylic, wood, corrugated iron, t-shirts. We do print on a selected range of luxurious, high quality fine art and photographic papers that we know will bring out the best in your images and will endure.
Photography
We produce quality digital photographic prints, in both large and small formats, for professional photographers and amateurs alike. In addition to this, we provide a range of digital services; from scanning negatives and retouching, to instant digital prints, we can cater for all your digital imaging needs.
Fine Art
The Digital Darkroom is dedicated to delivering prints to the highest standard. We specialise in fine art printing and offer a wide variety of leading, quality papers to choose from, as well as the expert advice to get the very best out of your print.
Commercial
With the latest Fuji Xerox digital press technology, we deliver quality commercial print products.
Selecting the paper that will best complement your image is one of the most satisfying parts of printing. We have a range of papers available of varying weights and finishes and can offer test strips to help you select the right stock to suit both your print and your budget.
Talk to us to get a no obligation free quote or to enquire further about individual stocks and or check out our price list.
Most of the time we are not very interesting, simply printers, paper and ink. Our customers, however, are fascinating. Check out our news section for stories about customer projects that we are involved with. We are not always boring (we hope) and there are occasional stories about special offers and new products.
Join our mailing list to receive our latest news, special offers and updates.
Darkroom Software
Solutions for the Professional Photographer
and Photo Booth Business

Introducing Darkroom Event Gallery
Ideal for emerging professionals, portrait, wedding photographers and those shooting small to medium events that are seeking an end-to-end photography business solution.
Adds the power of networking and built-in printer drivers providing a scalable photography business solution for large events, attractions, labs and high-volume studios.
Booth 3 for Windows gives you exciting output options, connects your customers to social media in real time, and provides you with tools to more effectively manage your booth.
Event Gallery
Gallery hosting designed for the photo booth industry.
Booth for iPad
The power of Darkroom Booth on your Apple iPad.
Hotfolder
Easily manage your image files and print queue.
Testimonials
Our users have some great things to say about us.
It is amazing! The easiest, most creative photo booth software ever. User friendly beyond belief, and it allows endless options with templates, screens, etc. There won't be frustrating hours trying to run it, because there are clear video instructions that Darkroom Booth provides.
Susan Rusconi
I'm so flippin excited! This will be perfect for our kiosks. I had troubles running other programs simultaneously and now this will accomplish everything I was trying to do without having to pay $1,000 in different software!
Sean Pennington
I say this with great sincerity. I sure wish there were more customer service oriented people and businesses like you. I haven't even purchased the product and yet you are willing to take time out of your day to assist me with this. I look forward to working with you and your company in the near future.
Valarie Moon
I have been using Core for a year. It has changed the way I do my workflow. I have started shooting almost exclusively green screen and most jobs I do on the spot printing with my DS80 and DS40.
Morrie Turner
Darkroom Booth rocks again! Hello… it's called service people, and I and my wife are thoroughly impressed. Images were properly and quickly re-installed into my software so we could properly load to flashdrive for client. Very cool and excited for the newest update soon.
Mike Flynn
[on Darkroom v9.2.wow] . and I love it all over again! The Facebook integration, suweet! Dropbox integration, suweet! Both worked the first time, gonna check out other new features. Go Darkroom Team Go!